We kicked off the day with lobby call at 7:30am. This means I got to get up at least by 6:15am. Because I have to do my blog, get dressed, make-up, breakfast and chill. Today we have 2 prisons to go to Dixon and Pontiac. Our first event was scheduled for 8:30a-10:30a. But, when we arrived to the prison the Chaplain told us there was a delay. Well, 6 days ago the D.O.C. change count time to 8am.  This means they have to count every inmate in the facility, which takes about 20-30 minutes. Then, as we were arriving we saw an ambulance on site. We were then told there was NO MOVEMENT. This lets us know the equipment is not set up and we would start late. We finally got through, all we needed to bring in were microphones. We walked the long green mile, when the Lt. told us the Chaplain could have called for us a ride. WOW!
The program was held in the auditorium and there were 178 men that attended and 37 salvations. It was a Sunday morning, so this was many of the Christina men worship service. We had a good time and majority of the men had never seen our Hope event.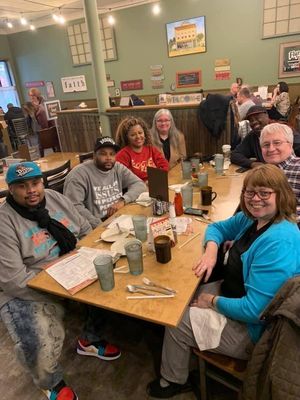 We left there had lunch with these awesome volunteers at a cute intimate restaurant called Flynnies. What we didn't know is that in an hour in 1/2 we would meet up with our other friends at a restaurant. So, we had a great lunch talked and learned how instrumental their work is to the inmates. 
We made a stop on the way to the next Prison. We stopped at Dollar Tree, because I had to get some crazy glue. My nailed had popped off and I couldn't continue with it in my pocket. 
SIDENOTE: What are you all doing on this Friday night? Well I will be performing at the Gospel Music Cafe at 19158 Livernois on the Avenue of Fashion at 8pm. Come hang out with me, I will be doing some music from my new album "Love & Gospel".
We met up with the Millers and members of their church Teresa and Terrance, who we met for the first time. We had dinner I guess, because we wouldn't stop again to eat afterwards. The restaurant was a place called "Baby Bull". I hate I didn't take a picture with Millers for my blog. We were able to catch up, it's been a year or so since they rolled with us. Big Jake and I shared some jumbo shrimp and fries, because we literally just ate.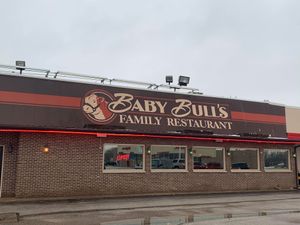 So, we made it to Pontiac MSU and the event was in the gym, we had to bring in everything for this event. They told us the men might not come, because they had been to church all day today.
But, that wasn't true they started piling in while were praying in a circle. We quickly ended that prayer and started greeting them. It was 100 men attended and 23 salvations. I sang "Write The Vision" which sets up Art's presentation on African American Visionaries".
The power of God moved during The Gideon Crew set, after they performed "You Don't Know What I Been Through". Majority of the men are LIFERS, E.D. had no way of knowing this and God had him prophecy to them. One brother on the front row uncontrollably started crying, he had to put his face in his shirt. And then he started lifting his hands and jumping. You could tell he was one of the leaders in prison, and the men looked up to him. But, E.D. grabbed his hand and prophesied specifically to him, and he lost it. The Holy Spirit moved in the room, and it was like God stopped time. Because, I knew we only had like 5 minutes left. But, when they were done it was 7:30pm. The time we were to be finished.
We greeted the brothers afterwards. One hispanic guy came through the line, he told me that song "Write The Vision" touched me. Because when God took his eyesight years back, He told him, "You don't need vision to see". I didn't know he was blind, it was amazing. We left the prison for a 3 hour ride to the hotel getting in after 11pm, with a 7:30a lobby call. Pray for us!