Some people look at life and become overwhelmed and anxious for things to happen for them. I have learned over the years and through my relationship with Jesus, it is quite SIMPLE. I've discovered the formula is simple, and has been given to us as a free gift called the "Bible". It is the only book in the world that has been sold and given away more tha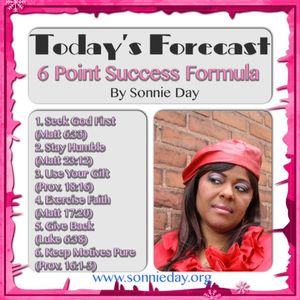 n any other book. Also, it is the #1 Bestseller of ALL TIMES, and yet it is still around and has been passed on through thousands of generations. Here is what God has given me and I use, so I want to share with you (success is ones own personal definition). Success does not mean money, fame and fortune, get an understanding, the scriptures confirms that!! "What does it profit a man to gain the whole world and lose his soul? (Mark 8:36). Therefore, we can not say worldly gain equals success!! You can take a look at what I believe is the Formula for Success.

I challenge you to use these 6 points in your life and watch what happens. The Word of God can't lie it is designed to prove itself to those that believe it. Many people miss the opportunity for the rewards it has to offer, because they choose not to believe and apply its principles. You may say, well Sonnie I don't understand all of this and I need some guidance. I make offers to those who are SERIOUS and WILLING TO DO THE WORK! If this is you and you have not join my email list, do so TODAY and I will send you the 6 Point Success Formula FREE 30 Minute MP3 to get you Moving Forward.

It's MONDAY, start afresh!

Love ya,
Sonnie Day

P.S. I'd love to hang out with you this Friday night, check out my calendar for details!