Day One of the Black History Tour in West Chicago, Illinois

is behind us, with 4 more days to go. Today, we done 2 shows at Dickson Correctional and East Moline Correctional Facilities. Each morning one of the team does a 5 minute devotional to prepare our minds for what's ahead. Dickson was our first stop where our 2hr program was condensed into 1hr and 15 minutes. You have to be flexible when going inside prisons, because you never know what may occur. Although our time was shorten, the Lord still moved mightily. We still had the opportunity to share our ministries with an audience of 360 MEN in their auditorium. S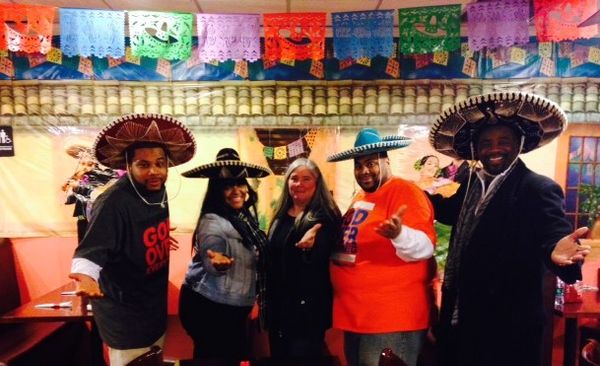 ome of the men were on fire for God and everyone was grateful for us coming. We offered Christ and thankful to report 130 men accepted and rededicated their lives to Christ.

HALLELUJAH!!

. Next, we traveled to East Moline, where I was able to catch a quick nap because of the 1hr plus drive. After shaking off the sleep mode, we were ready to go inside. BTW because the walk is so long to the chapel and auditorium, we rode in the PRISON TRANSPORT vans. Boy was I excited to now say I rode in the van with the cages behind the driver, like in many movies I have seen. The 2nd stop was in the chapel where 81 brothers attended the event. MAN WAS THE HEAT ON BLAST!!. The power of God was released in the atmosphere where if our time was not up, we would have had "some church". The Assistant Warden of Programs came to the event and really enjoyed it and invited us to come back anytime. Jesus showed up and 18 brothers accepted Christ! We ended the evening with going to eat at a Mexican restaurant. Definitely, outside of my norm, but the shrimp and steak fajitas were GOOD!  We took the picture you see, with some hats they allowed us to wear! You can check out some of my DAY ONEsilly videos on my social cam site: www.socialcam/SonnieDay....STAY TUNE FOR DAY TWO....continue to pray for us 3 Shows tomorrow, lobby call 7:05am, and I got to do some homework!

LOVE YALL!!