The tour has been going great, and today the Lord really showed up. We had a lobby call at 7:50am, I just know the names of the prisons not who is there. As we were heading to leave, running a little behind, a lady appeared out of know where. She asked if we could give her a jump, because her car wouldn't start. As we contemplated, because we were running behind, Jacob told the lady yes we can before we knew it. But, getting to the prison on time is a big deal!. So, we were pulling off, because we really didn't have the time. But, Jacob insisted, she might be an angel, we have to help her. Of course we did, it took little over a 5 minutes. I just wonder what would have happened had we not helped.

We arrive at the prison (Logan Correctional), where the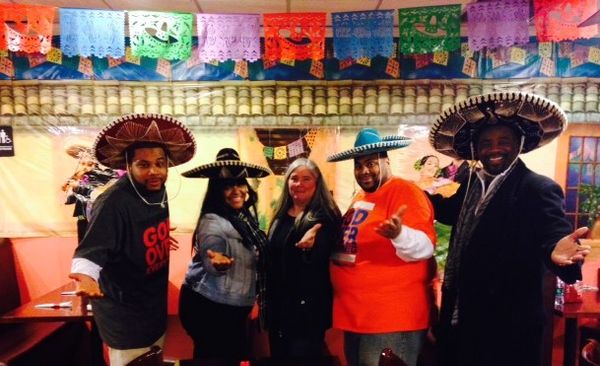 officers were not the friendliest. We went through the pat down, taking your shoes off, etc. Then the Chaplain arrived to get us, boy was she a sweetheart! It wasn't until I saw some ladies working outside that I knew we were at a women's facility. We done 2 shows here and ministered to 160 ladies, (this prison is said to be the largest prison women prison in the U.S.) There population is 2050, and you can see the strongholds and the spiritual warfare with getting them to come to the program. However, the Spirit of God moved, the ladies were weeping, one of the ladies told Mary "I never felt like this before, what is happening?" Jesus took over and 85 souls were saved and 
rededicated to Christ. The Chaplain says, "In all of my 8 years in Corrections, I have NEVER seen a program such as this, you guys are on my A1 list, I must have you back".

After we did our usual Walmart run, we ate Subway (lite) because we had the last event for the evening. This was directly across the street at Lincoln Correctional with the men. The service was in the multipurpose room above the gym (really neat setup). The sound system was perfect and the brothers in the Christian community were out first, on time and on fire. We ministered to 120 men and 65 souls were saved and rededicated, the brothers done poetry for us and grateful for us coming. One guy says he is out in 30 days, and says I got to have your music. Asked is it on I-Tunes, although I don't know how to work a computer, but my kids do. He had been locked up for 15 years, it just brought joy that he was going home soon.

The night ended with a stop at Culver's for ICE-CREAM, SHAKES, and BANANA SPLITS! None of that for me, because it will mess my voice up, pray for me it is trying to get hoarse.

Follow us on this journey as we transform lives through the Word of God and through Song! Bring The Gideon Crew & Sonnie Day to your next event.
LOVE YALL!