I heard a top Dpt of Corrections Administrator say they was totally against bringing children into the prison. Until she had a chance to see and hear the impact it had on the rehabilitation and the family restoration of with inmates. Your intentions is to remain excited with a celebratory attitude, but it's just not happening. When I see men meet their children for the first time, or teenage boys embrace their dad with tears in both their eyes. This here is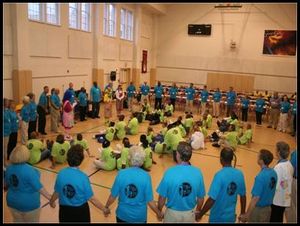 a memory planted in your brain and hearts for years.
This past Saturday, I went to Cooper Street Correctional in Jackson, MI. We had 58 kids and 32 dads, with 115 volunteers and 30 caregivers for this camp. I get the privilege of sharing my story and entertaining through my music. Well, each camp I do there is a story or something sentimental that occurs. This particular camp, assured me God is pleased with this work!!
Brace yourself for this AWESOME TESTIMONY of GOD AT WORK!! We had a 14yr old girl who hadn't seen her dad in 7yrs. This is typical and not uncommon, however, she lived in Mexico and her dad is incarcerated in Michigan. Both her and her dad were approved to participate in the program, however the 14yr old didn't have a passport. We all know it takes a while to get a passport, especially from another country.
Well, this was the week of the event (Saturday) and that Tuesday of the same week she had no passport. Also, Mexico required a photo of the dad, to assure everything was legit. Inmates can't just take pictures and send without all the mail processing stuff and to Mexico, in 3 days. NOT HAPPENING!!
To make a long story short, Jesus orchestrated some stuff and the 14yr old boarded a flight arrived in the U.S. on Thursday. And, it was Saturday morning that I saw her embrace her dad with the longest hug a person would ever enjoy seeing.
Lastly, when I got home that night, I received a text from a young mother who son's father is incarcerated. She told me, for the 40 minutes I had the mic, I inspired her SOOO MUCH! It is these stories that I hold dear, and they certainly keep me going!!
#MISSIONMALACHI4:6
  If you would like to donate to the efforts of this mission please let me know and I can tell you how!
Love,
Sonnie Day
www.sonnieday.org