It had been since 2019 since the Annual Christmas concert at Huron Valley Women's Prison in Michigan. It is the only women's prison in the State of Michigan. It was the team returning together after 3 years. Rufus Harris, Anointed in Christ Mime Ministry, and Sonnie Day. We were all excited to get together for an amazing time. What was different this time is Denise who was the Field Director is now Regional Director. So, this event was the new field Director, Jerry Dash first Hope event.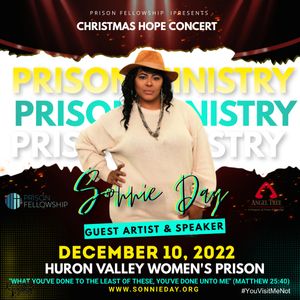 I didn't learn until 2 days before that I was going to be the Speaker & MC of the event as well. It would be my first time as the "SPEAKER" at Huron Valley. I was a little nervous, but I trusted the Holy Spirit. It is nothing that I haven't done before, TALKING. So, it was all good, and the Lord used me mightily.
The ladies were in such anticipation they ran inside the auditorium like a Black Friday sale. It was crazy, they were running to get front row seats. We all were in utter amazement. And when we started these women were ready to praise God. 
The team for these events was perfect Rufus on guitar with melodic smooth sound. The mime team sharing Jesus through expression shook the room. And God allowed me to bring Christmas joy, fun and encouragement.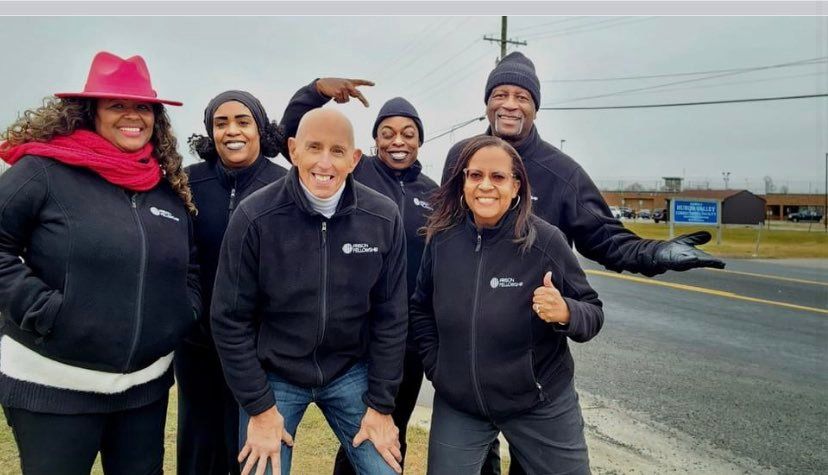 left to right (me, Christian, Jerry, Myra, Denise, Rufus)
We had two events, the first one started at 12pm. Following the event we talked, prayed and encouraged the ladies one on one. I was heartbroken to have one of the ladies slide me a note. She asked if we could pray for "Celeste" an inmate who just learned her 20-year-old daughter was murdered in Flint. We prayed for her and it definitely touched me.
Our first event was amazing, and we met the new Chaplain. He is young, cool and down to earth, we hope we work together more. We did our video and pic after the first event before it got dark. And then we went to Harvest Moon cafe the closest spot to the prison. We had great fellowship and laughs.
The last event was FIRE, God turned it up a notch and the women were too hype. We had a great time and really made the women feel like they were not in prison.
I had so many women tell me they were getting ready to released. And one Sista prophesied to me, and I know she is accurate. 
We left there about 9:30pm and I hit the Walmart up there for some items before driving home.