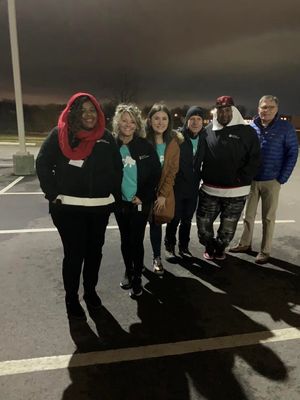 It would be our first time working with the new Field Director for Illinois & Wisconsin. We spent 12 years going to Illinois every February with Mary Johnson, who retired this past summer. We talked back and forth via email to set up this first Hope event in Wisconsin, with Leah. We left the day before the event and flew into Chicago as we normally done. And our partner friend always looks out for us at the hotel for these prison events. 
We met Leah who was a beautiful youthful in spirit woman with an accent reminding me of my southern family. She was no stranger; it was like we've known each other for a while. We checked into our rooms and went to dinner. We got to know one another a little more at dinner and had a few laughs and memories of Mary J. 
We were too excited to learn our lobby call was at 11am. We were so used to 6am and 7am lobby calls over the years. We got a chance to enjoy the hotel a little bit. We had two events at Racine Correctional Facility with the men. The men were so excited to have us return. Our first event 43 men received salvation. I had two of the men join me in singing Joy to the World. It was so much fun, because the other men point out the singers when I ask. They enjoyed the testimony and message; our first event is always a testing of the waters.
After the first event, we left for lunch with the team. We had some great discussion and was able to encourage one of the brothers in the Lord. It was great fellowship and one of the volunteers reminded me of something. She said, I was with you all last year, you didn't have the men dance. I said, you know I planned on it, but it didn't fit for this event. So, I thanked her for reminding me and made sure to add it for the next event. We arrived back to the facility with ease, because we didn't have to set up.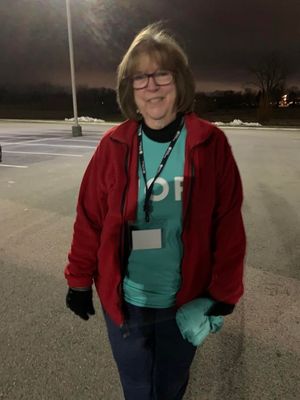 The men had rearranged the stage area as we needed. And we prayed together before the event and the brothers started rushing in. It appears the nighttime events are more hype than the afternoon ones. I guess it's like coming to a "real concert" for these men. And our goal as always is to make them feel like they're not in prison for 2 hrs. 
Leah shared her powerful testimony that had the men chuckling a little. I did my set and when it came to the dancing. It was the joy of the evening for me, 3 black guys and white guy hit the gym floor. I call for the steppers/ball roomers and man do they get excited pointing out who can dance. They love to geek each other up and push them to the front. I have them dance off one of my remake songs of the Isley Brothers. It was young and old on the floor, and the love in the room was electric. 
I introduced E.D of The Gideon Crew, he did his thing and brought the message. The Holy Spirit moved during his entire set and the altar call was powerful. There were at least 150 plus men who stood up for salvation and rededication. Men were crying and worshipping God and you could feel the Spirit moving. We closed out with time for one-on-one prayer. There were lines with the volunteers, me, Leah, and E.D. I ended up not doing the one-on-one prayer line after my first encounter.
The young brother comes to me and says, "Can you pray for me?" I said, "Of course, what should I pray for?". He says, "First, I need a hug, can you give me hug?" (and he said it like he was sexy). I said, "Dude you know we can't give out no hugs". He says, "but I really need a hug, though". I said, "Boy let me pray for you, I'm old enough to be yo momma". We prayed and I went to sit down and let the rest of the team pray. I get this sometimes in the prison, and it be funny to me.
After I prayed, I looked around and E.D. had the men in a brotherhood circle of prayer. Many of them wanted him to pray for them, so he did it all at once. It was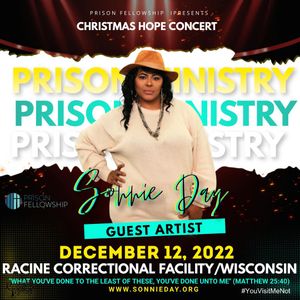 powerful to see and the men bonding during this time. The Chaplain was very pleased with the event and was very grateful we were able to come. We left around 9:30pm to head back to Chicago. We stopped and got dinner at Applebees, only thing open. Our flight was leaving at 8:30am, so it was an early morning shuttle to the airport. God blessed and from the feedback forms the men were touched. I'll share some of those soon. 
Thanks Racine, see you soon!