We can't believe we are in our 8th year doing the Illinois Department of Corrections. God has certainly shown Himself inside of the largest church in America! We had a great 45 minute flight to Chicago and we stayed the night at the Renaissance O'Hare Airport Hotel. We are so grateful for our sister-friend that has partnered with us for all these years. Those pillows are to die for, still haven't got me any for home!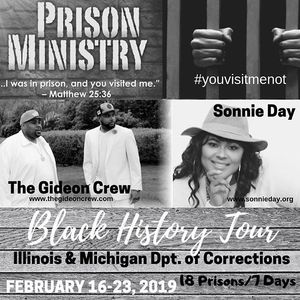 We hit Guitar Center to pick up our equipment and headed for dinner at Longhorns Steakhouse. We hadn't been out for dinner in over 2 months since Aiden's condition. It's been great though, cause we've saved some money :). After a great night of rest, it was time to hit our first facility.
We arrived at Danville Correctional where we met the Chaplain at the front gate. They wouldn't let us take our DVD player in because they said they had one. It worked for our music, but Art's music didn't work on it. The event was held in the gym and 170 men came out to Black History Event. Most gyms in the prison have a terrible echo, so it's hard to hear. But, they had the sound good enough that it worked out.
I always open up, then Art brings the message, and The Gideon Crew take us out. The brothers had a great time, one guy shared with us prior to getting started. He said he was on DEATH ROW, but God turned that thing around. He was to be executed, but God changed it to LIFE w/o parole. "Shout".
The Lord added to the Kingdom 18 men received the free gift of salvation and 43 rededicated. God is GOOD! The event went great, we greeted the brothers and they were very appreciative for us being there.
We had a 2 hour ride to the next facility, so we got gas and hit the ROAD (pun intended :). I took me a nap on that ride after eating a few snacks in the van.
We were greeted by a cheerful female officer that could SANG at Jacksonville Correctional. It's not always that way when you come inside. There were 8 Volunteers that came out to the event as well. We always enjoy meeting new people with the same passion. The Chaplain is new to the facility, but he is so cool and funny. He was worried about the event, because it's on him, if it doesn't go well. He said, "It's gonna be in the Chapel, but I don't know how many will come out.
We didn't care how many, we would do the same presentation. Well, the chapel was packed out and 110 men came out. The Chapel has all the instruments and the inmate musicians ROCKED IT OUT WITH US!! MANNNNN!! I introduced my new song, but I told them I didn't want to BUST the speakers. One of the guys yelled out, BUST THE SPEAKERS! So I closed out with "You Can't Stop Me"! And those SPEAKERS BANGED!! And the men were chanting "You Can't Stop Me, You Can't Stop"!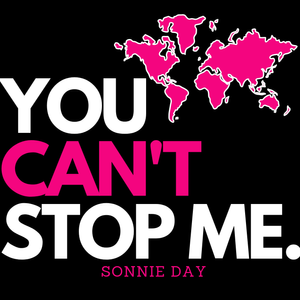 Art brought the message so powerful, the 55 men rededicated their life to Christ and 18 accepted Jesus as Lord & Savior. The Gideon Crew turned the place out and even called the Chaplain up to the stage with them. He was so shocked and nervous, it was too funny!
One of the brothers name Tyrone shared with us his testimony before we started. He remembered seeing us at another facility he was at. He said that he has been in for 9 years, and has been trying to prove his innocence. Well, he is going home next week, because his case was overturned. WHY? because he was innocent, and would be getting a $400,000 settlement. He is a sold out believer for Jesus Christ and said we'll be seeing him. I WAS READY TO RUN AROUND THAT PLACE! But, I knew the officers would probably put me out. (Read Psalms 146:7).
So, as we were eating refreshments after the event in the Chaplain lounge area, an Officer came in. We thought he was gonna tell us, it was time to go. But, he said I was leaving walking to the front, and God said go back and pray for them. He was a Caucasian young guy, so it wasn't expected. DO YOU KNOW? He was a BELIEVER HONEY! He prayed for us and it was powerful. In all my 80 plus prisons I've been in, AN OFFICER NEVER PRAYED FOR US! GOD IS GOOD!!
We ended the night at Cracker Barrel for dinner before they closed. It is across the street from the hotel, so I got me some catfish, fried okra and fries, with a raspberry lemonade.
Stay connected to my blog post as we continue our FIRE TOUR...Day 2 is the Women's Prison...it's about to go DOWN!!
Love yall,
Sonnie Day
Sonnie Day is a Transformational Speaker, Musician, and Vision Strategist who entertains, educates, and empower individuals to live out their greatness. #Educate #Entertain #Empower. www.sonnieday.org