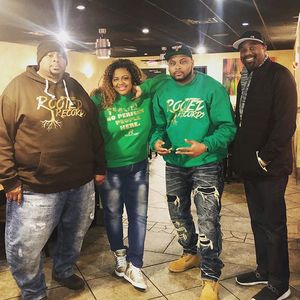 The week goes by so fast, our last day at the prison was bittersweet. The inmates always look forward to this time of the year, as we do. We had 2 prisons to go to, Robinson & Sheridan. One was in the morning and the other was in the evening. In between the two, we had to take Art to the airport. We were able to catch a nap, but it was Mary having to drive is what I didn't like. I'm praying for someone to drive their RV around for us.
We arrived at Robinson for the morning event, with Chaplain David, another one of our favorites. The event was held in the gym, they had changed the set-up since we were there last. We brought in our equipment, but needed extension cords. The LTS guy that run the gym was a cool brother, he helped us out and took pictures. 
After the event, we hung out for a minute, E.D. & Big Jake talked about coming back to go hunting with the Chaplain. So, we're planning that trip for the fall. They were talking about eating deer, different types of birds, and some crazy stuff.
There was 80 men that attended. 19 men accepted Christ, and 34 rededicated. There were several different religions in the room, but seeds were planted and watered. 
We left there and dropped Art off at the Airport. I was grateful for the Chaplain that warmed up my left over pizza for me. I ate and went to sleep shortly after. The ride was 4 hours, because we were coming from Southern Illinois, close to St. Louis. We dropped Art off and headed back for the last prison Sheridan Correctional. 
We arrived at the prison and it was laid back. We had to get a ride to the gym, because the walk is long. We got their about 10 minutes late, but they had sound set up in the gym. They don't have a Chaplain, and you can tell. We saw a few brothers from other facilities that had been transferred. The officers didn't want them to move from their seat or dance. It was crazy, we made the best of it.
E.D. was the speaker for this one and he just kicked it with them. He still stayed on the theme of the FIRE tour,he added some comedy and they were cracking up. The message God gave him, you can see the men ALL IN with their antennas up receiving everything. 
There were 83 men that attended and 75 received salvation. I know there were Muslim brothers in the audience, but some raised their hands. We left there and headed back to our partner hotel for the night. We got some fast food and called it a night. We ate breakfast that morning with our friend and left for the airport.
We ended our Black History tour in Michigan at Gus Harrison Correctional in Adiran, Michigan. There were 50 brothers in the gym, we brought the same message and energy as we gave Illinois. We're planning to come back in the summer to do a LIVE FULL BAND CONCERT on THE YARD! #FUN