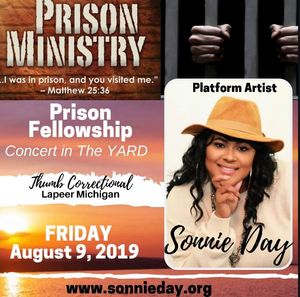 The weather was absolutely beautiful, we couldn't ask for more perfect weather. The men had the equipment already set up on the basketball area of the yard and were just as excited as we were for the event. Prison Fellowship host "Hope Events" all over the country for inmates. They are evangelistic events with various forms of entertainment to bring the inmates out to hear the Gospel. This event included myself, Rufus Harris, The Gideon Crew, and The Conquerors strong man team. We are no strangers in working together, we've been doing these for years as a team. But, we knew God was going to do some amazing things at Thumb, because of how the enemy tried to block it. We had clearance issues for 2 of the team members all the way up until time to go in. Big Jake of The Gideon Crew was not approved to go in. Now mind you, we travel all over the country and have been in over 70 prisons in several states. For some reason, he was not approved. But let me share how God worked. The Gideon Crew decided to come anyway, knowing Big Jake wasn't approved. We were operating in total faith.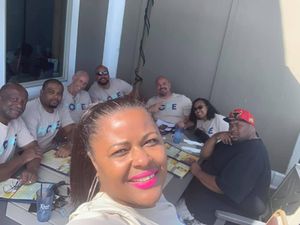 One of the members of the strong man team left their license at the hotel and we had to wait. So, we were delayed for about 30-35 minutes, we got their early enough though. But, him leaving his license allowed the Deputy Warden to run the clearance again. And by this time, as Yago (strong man) came back with his license the Warden had come in. He recognized Yago from the camps we do together with bringing in the kids. We were just their 2 months ago. So, he asked what was the problem, why were they all waiting out here and not going in. He explained the situation that Big Jake wasn't cleared. He simply told the officer let him, signed the pass and gave the OK to let Big Jake go through security.
Meanwhile, the ladies are through security and the Deputy Warden is back with us. She says, he is cleared to come through. We were overjoyed, because our first event for the morning was with the youth offenders. They needed to hear The Gideon Crew's music and their testimony. GOD DID THAT!! If you believe by Faith you have already received. 
We had 2 programs and we ministered to over 250 men and 70 men asked Jesus into their heart. And half of that number were the youth offenders ages 15-19. We had a great lunch from the Food Tech program inside the prison. Yo, they made some homemade potato chips, MANNNN!! I'm telling you they should be on the market.
We left there and went to dinner at Lake Inn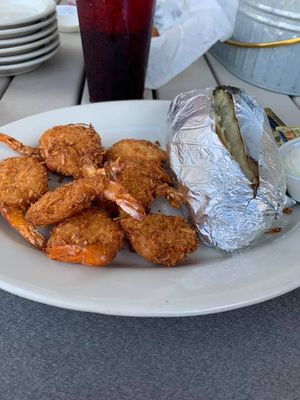 Food & Spirits in Lapeer. It was off the Lake and they were doing numbers, parking was 2 blocks down and it was packed. Of course, I had the coconut shrimp with bake potato and some clam chowder soup, probably my favorite meal.
We need your prayers once again, as we go inside one of the largest churches in America, PRISON.
Sonnie Day is a singer-songwriter, motivational speaker and educator. She uses her platform to educate, entertain and empower individuals to live out their greatness. She helps them identify their MVP and how to use it to create income. Sonnie is a 6 time Detroit Music Award Winner and the 2019 Detroit Black Music Award WInner for Gospel Artist of the Year. Booking information www.sonnieday.org.