Our lobby call was at 7:30am, and we had 3 prisons to do. We began at Vandalia Correctional in Vandalia, Illinois. We had a smooth time getting through security. The Chaplain was a nice cool young lady, her brother lives in Detroit. We had something in common, anything with LOVE on it we like it. So, she loved my earrings and my Love & Gospel sweatshirt. There were 45 men that came out, we thought it was gonna be 175. I did my set, and the ballroom battle I do between Chicago and Detroit, gets them excited. So, this old man on a cane put his cane to the side and started stepping, he was jamming too. Everybody did there thing and there were 13 men that accepted Jesus Christ. We had time to spare a little so, the guys played Basketball with the Warden, and some of the officers.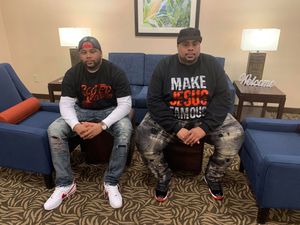 We left there and traveled to Graham, we didn't really have time to eat. So, we ate what we had in the car. Graham is one of our favorite spots to stop, because the Chaplain is dope. He's made the chapel into a "real church". It's called "Hope Chapel" they got a big sign outside and on the building. Well, we got delayed by an 1hr. from coming inside. They randomly had a "staff wellness check" right during lunch time. They sent the 150 men waiting for us in the chapel back to their dorms. So, we finally got through & set up, only 51 men came back. Interesting enough those men were made to stop at the shed on the yard to be searched before coming to the Chapel. You talk about opposition! While Art and The Gideon Crew was up, the Assistant Warden came to the chapel and wanted to talk to the Chaplain. She talked with him during majority of the event. We thought interesting, but the 22 men accepting Christ was more exciting! A Caucasian older man prophesied to me before we left. And I'm looking for it to happen!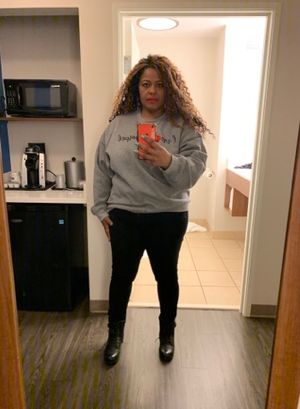 We ended the night at Taylorville Correctional. We were in the gym and it was cold in that gym. We rocked out with the men, about 80 of them came out. The Holy Spirit moved in that gym so powerful. Some of the men were stepping, it was great to see them smiling with joy. One of the officers told us at the end, "thank you for bringing God inside of here". What happened at the end our never forget. An old school brother yelled out as we were packing up. He said, "we can't send them off this way, we got to pray". He began to pray and what he said next made my spirit leap. He said, "May you live as long as you want, and may you want for nothing as long as you live".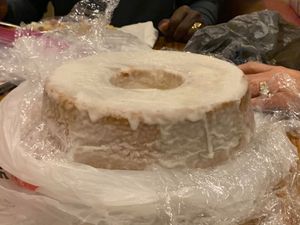 We left that prison and was headed to Cracker Barrel before they close at 10pm. Unfortunately, we pulled up at 9pm and they were already closed. So, we ended up having to go to Pizza Hut. It was cool, because I haven't had it in a long while. And Auntie Ella brought this lemon pound cake inside and started slicing, and guess what we started eating. 
Our night ended, and it took less than 5 minutes to get to the hotel. Of course, I was sleepy and went straight to sleep. Pictured below our team today and tomorrow: Mary, Lady Ella, and Sandy, everybody else you know.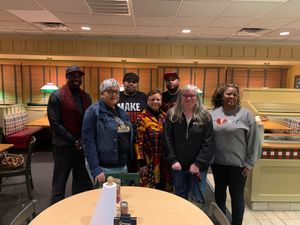 Follow me on all social media, you can subscribe to my YouTube Channel at SonnieDayTV. 2020 Vision Prison Tour is a 4 day trip traveling to 9 Prisons in the State of Illinois. It is the 8th year of this Annual Black History Month Hope events.