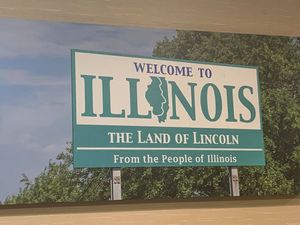 Well it's the last day of the tour, I can't believe how fast it went. 3 Prisons,so we will get back to the hotel late. Lobby call again was at 7:15am, our first event was at 8:30am. We arrived at Lincoln and the Chaplain greeted us, she was a fired up black woman. The event was held in the chapel,which is above the gym. She opened up with dancing and telling the men "we gonna turn up in here". There were 75 men that came out and 23 of them accepted Jesus Christ. 
One of the brothers that helped us set up wanted to show us his talent. He was an artist, dude artwork is dope. He said he's been able to buy him 2 flat screen tvs and a tablet from selling his artwork amongst the men in the prison. Listennnn, I was like what?. We get feedback forms after each event, so here is one from an inmate at Lincoln.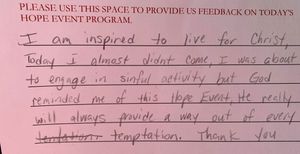 We loaded up and drove next door to Logan Correctional, which is the Women's prison. We already know what time it is when we go there. They were anticipating our arrival, had things set up and was ready to roll. I did "You Can't Stop Me" and they were turnt. But, when I did "For the Love" and talked about the men facilities not doing the Chicago Step. These ladies got up out there seat and started dancing. One older woman was in a wheel chair, and tears started coming down her eyes as she got up and started stepping. I could tell the joy she felt and maybe it reminded her of home or dancing like she use to. They started dancing together stepping and then the Chaplain had to make an announcement afterwards. He said, "You can dance by yourself, just not with each other".
Art stirred up the room with the message and 28 ladies accepted Christ, there were 150 that came out. The Gideon Crew set the room ablaze with the Holy Spirit. When I say these ladies shouted, cried, worshipped God the officers were nervous, and the Chaplain I think because he was new. They had us signing autographs at the end and were very grateful. One Hispanic lady told me she went from Deathrow, to natural life, to now waiting for the Governor phone call to free her. She's serve 28 years for a crime she didn't commit.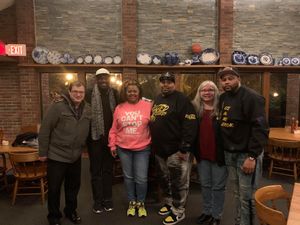 Our last prison for the night was at Danville. The event was held in the gym and we had to set up everything because there was no one in the gym. Our program started late, we ended up having an hour program, because a fight broke out. Chaplain told us there were 250 passes given to attend. There was 175 guys that came and 29 accepted Jesus Christ. So, I did 2 songs and when I said Detroit hold the title for stepping they was tripping. When I did my remake of the Isley Brothers "For the Love of You". One brother got up and stepped and HE KILLED IT!!! Listen, I have seen some since we've been doing this for 8 years. He the best one I've seen!
We ended the night going over the border to Indiana for dinner at the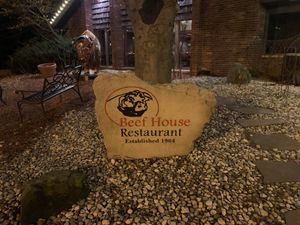 Beef House for dinner. This is a family own restaurant that has a dinner theater building attached to it. The food was excellent, I had king crab legs, shrimp, scallops, and cod with baked potato, broccoli cheese soup, and salad bar. All of this was included, and your drink. The food was amazing and the staff were great. The Chaplain from Danville recommended it and joined us for dinner too. We had a great time of fellowship and learned some stuff too. 
It was time to turn in so we crossed back over to Illinois to check in at this nice Hampton Inn hotel. This was at the entrance so I had to take a picture. Excuse my face the photographer "Big Jake" did not know what he was doing. You know men don't know how to take a woman's picture on her phone. This here is a BIG DEAL! and it has to be right.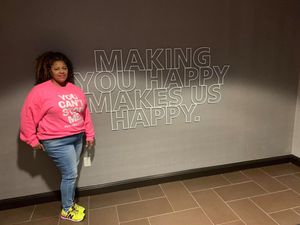 Well, Tour number 8 is in the books! The Lord has done what He promised and we are grateful and honored to have been chosen to serve!
Yall come hangout with me for Valentine's Day at the Gospel Music Cafe Friday night at 8pm. 19158 Livernois in Detroit, Michigan. Let's take a picture, dance and have some FUN!