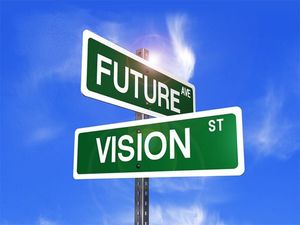 Happy New Year and Welcome to 2023. I know I may be 8 days behind, but it's never too late. I chose this picture as the face of this blog post for a reason. These two words run across the path of the other. I think it's significant because of what they say. If you plan to have a future, you better have a vision. And if you don't have a vision, you will not have a future. This is just as simple as it gets. God shares with us these two specific words in scripture. 
Jeremiah 29:11 says, "God plan is to give us a future and a hope". Proverbs 29:18 says, "With no vision the people perish". Here is what I find interesting, God has a plan, yet we must have the vision. Let that sink in for a moment and read it again if necessary. I believe when the vision doesn't align with God's plan, He will allow it to not work. Or may even allow you to figure it out so you can learn many lessons. 
As we all journey on this 2023 Highway of Life, remember to pay attention to the detours, proceed with caution, speed bumps, yield and stop signs. Don't forget the signs are there for a reason, just like the Holy Spirit. Don't ignore, allow the Holy Spirit to be your GPS, to lead and guide you throughout 2023.